Workshop

Herramientas para la acción/Tools for Action
L'animal a l'esquena (Celrà)
From 04/10/2021 to 08/10/2021
Mal Pelo
( Mal Pelo, Pep Ramis i María Muñoz )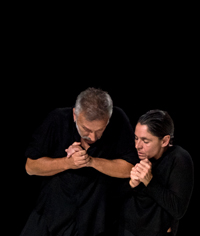 Mal Pelo
offers a workshop in which to try out the mechanisms of action and where they may lead. A look at movement and writing for the body in action. Precision, endurance, commitment, intensity, silence, absence, presence, punctuation, habitability, surrender, phrasing, linearity, temporality, musicality, rhythm, and writing are some of the terms we shall be investigating during this course.
To activate: 1. To put an action into effect 2. To make movements and gestures to make something understood 3. To control the action of a mechanism.
Mal Pelo
's workshops are given by the two co-directors of the company, though both may not be present at every session.
detalls
---